Traditional Calligraphy Lessons 書道クラス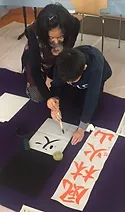 Unlike Meditation Calligraphy, in this class, you will practice painting by replicating text.
With the traditional teaching method, students paint characters and practice the same set of characters for a month or so. Also, the teacher assigns the text to be painted.
However, in my class, I ask my students what they would like to paint. Of course, I will give you some suggestions, as needed.
I believe that painting characters that interest you will be easier to engage with and naturally increase your concentration.
This makes your experience more joyful, as well!