Eri ~  Healing Artist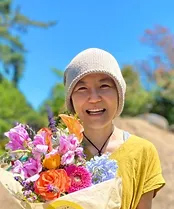 Eri is from the small town of Kagoshima, Japan. She grew up playing in the mountains, bamboo forests, climbing trees, and exploring rivers and the nearby ocean. With an ever-present sense of curiosity, she said 'yes' to her mother's suggestion that she learn Japanese calligraphy or ShoDo. This was at the age of seven. Later, she expanded her calligraphy world by mounting scrolls, carving seals, and assisting with ShoDo classes, among other experiences.
When she came to the US as a college student, Eri started painting on different materials such as scrap wood that was on its way to the dumpster. At first, she simply wanted to save the 'trashed wood', but this became a call to action to challenge the rigid expectations of traditional Japanese calligraphy. It also prompted her to embrace the freedom from Japanese cultural norms she enjoyed in the US.
​
Leftover oil paint provided inspiration for many art pieces during college. This shifted to oil printmaking. The oil paint art itself, crafted with these leftover pigments, became her canvas for calligraphy. Since those days, she has included color in her ShoDo art.
One day, as Eri was free-painting, she received an inspiration that 'Calligraphy is Meditation'. This message proved to be the liberation of the conflict she felt toward traditional calligraphy. This intense experience was also her reconciliation with ShoDo. From that day, she started practicing and developing 'Calligraphy as Meditation' that focuses on oneness with the brush and the flow of energy that is at the heart of this practice.
As a writer…
Early in life, the writing was fun as long as she could write freely. Eri enjoyed keeping diaries and letters. She also maintained a dream journal from time to time. In Japan, Eri's junior college life was like being in a 'literary military'. She wrote lots…every day. It trained her to fear no deadline. Today, she is a writer for a local bilingual newspaper and the author of a book published in 2017. Eri encourages people to embrace writing, as well as the handwritten script, and she holds writing therapy sessions to promote self-awareness through writing one's own history.